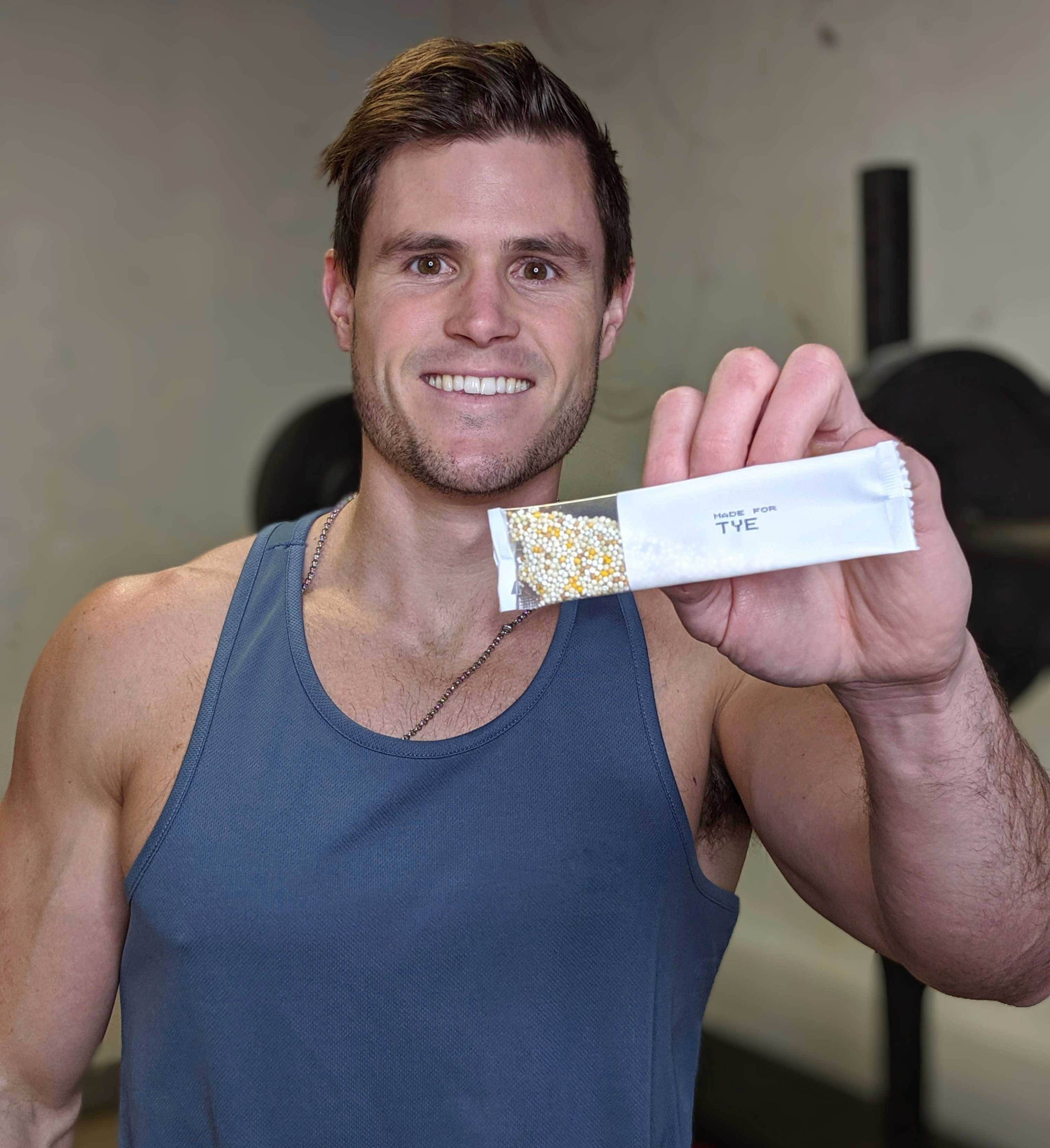 Rootine for Men
3 Month Program
100% Custom Daily Vitamins made for your body only, in safe and effective doses based on your lifesyle, your DNA, and your blood nutrient levels.
30 Daily Vitamin Packs
$2/day
DNA Nutrition Report
Free
I Have DNA Data (23andMe or Ancestry)
$0
First Month Discount:
20% (-$12.00)







Generic multivitamins are ineffective at best, and harmful at worst because every body processes nutrients differently. The science of Nutrigenetics allows us to move beyond "mass market" and in to the future of bespoke nutrition.

We combine data from your lifestyle,
DNA and blood tests to build a 100% custom
multivitamin formula just for you.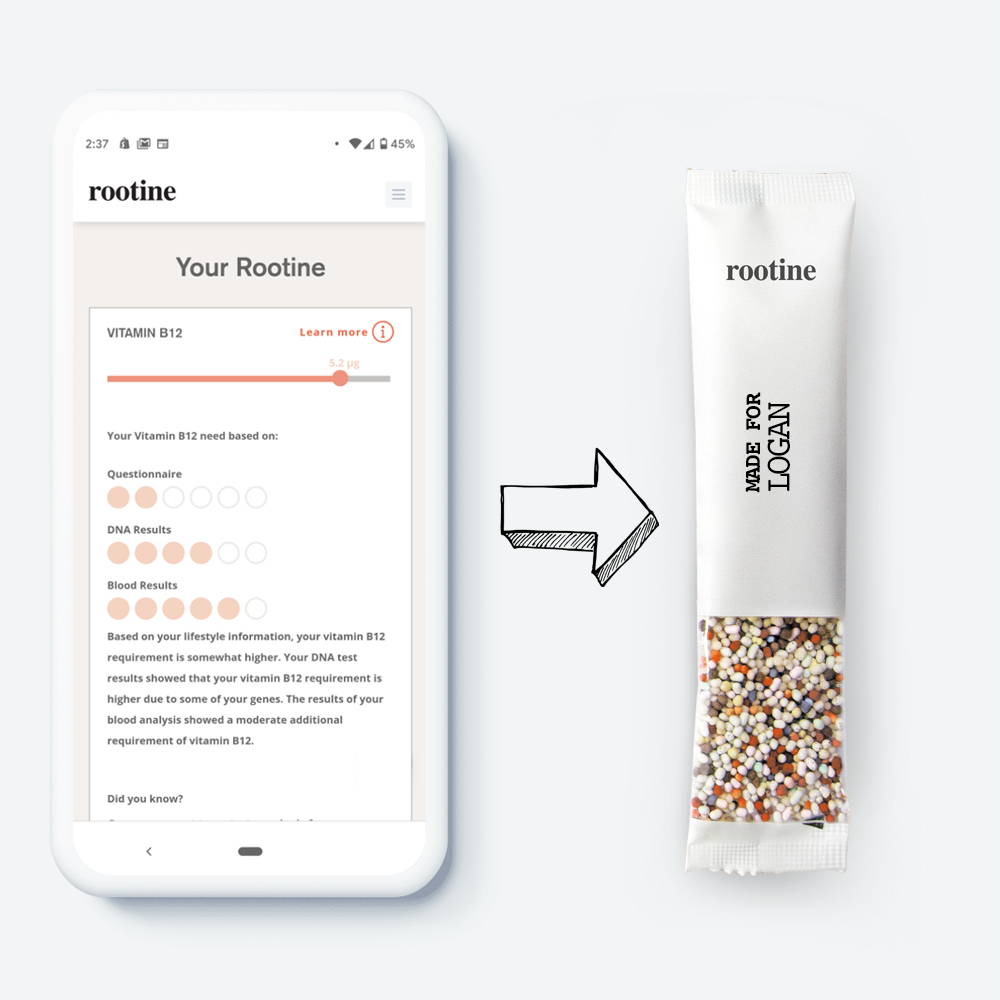 Rootine for Men is designed to
• reduce stress
• boost energy
• maintain testosterone
• increase metabolism
• support healthy cholesterol
• beef up your immune system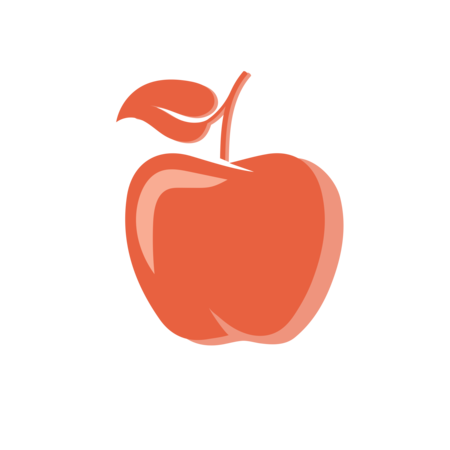 You take a 2 minute lifestyle quiz .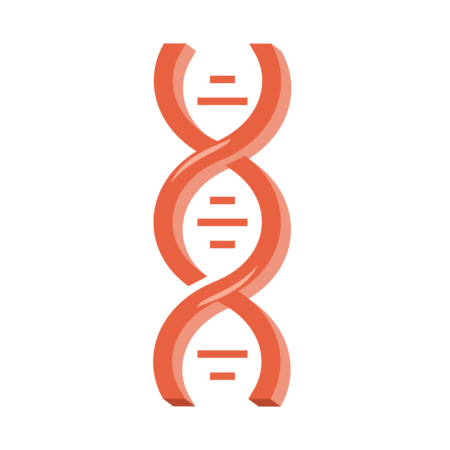 Upload your Ancestry or 23andMe or send us your simple DNA cheek-swab kit for analysis.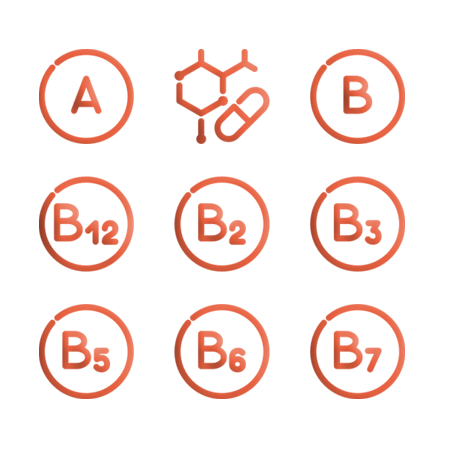 After our analysis is complete, you'll receive your 90-day supply of 100% customized Rootine vitamin packs.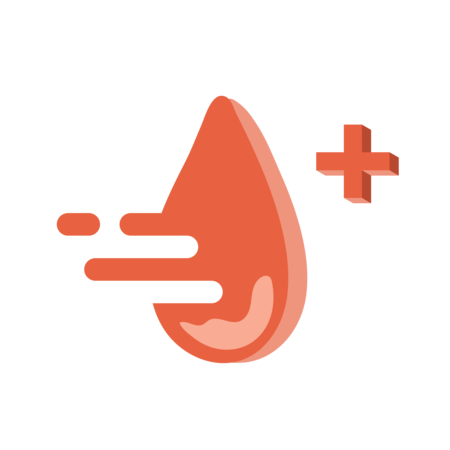 Upload results from a recent blood nutrient level test and we'll adjust your doses if necessary for your next shipment.

A detailed analysis of your nutrient needs based on your lifestyle, your DNA and your blood nutrient levels.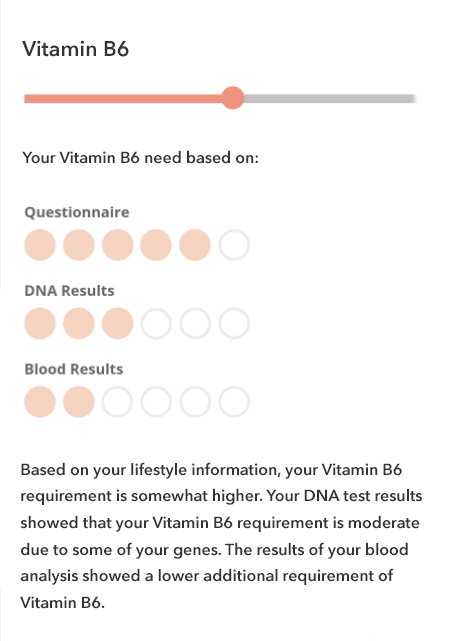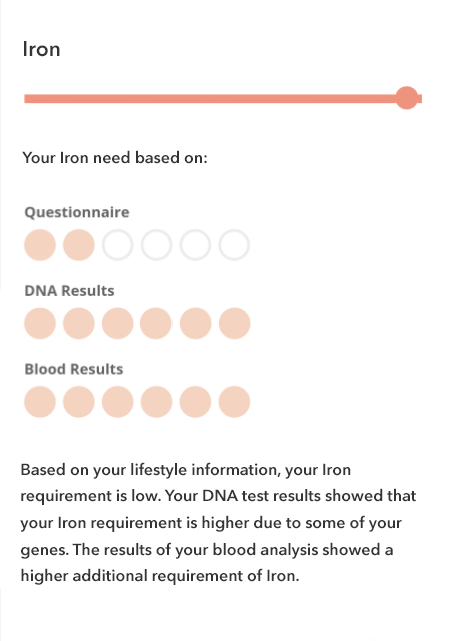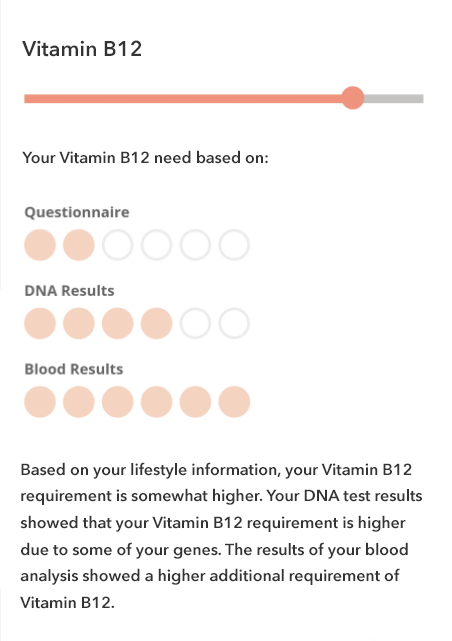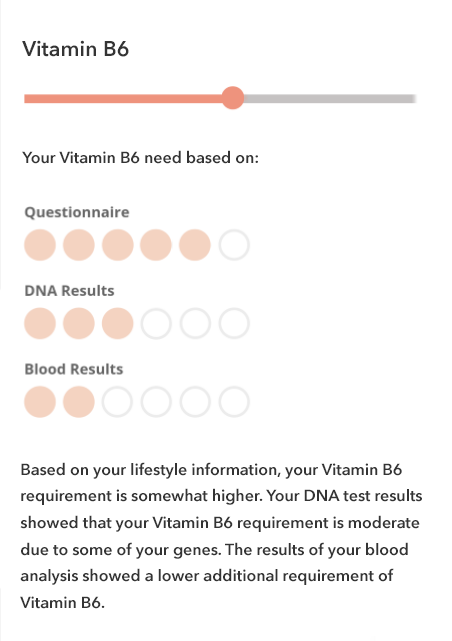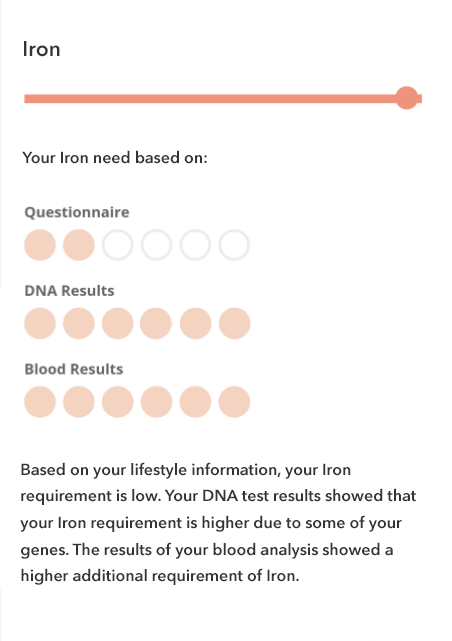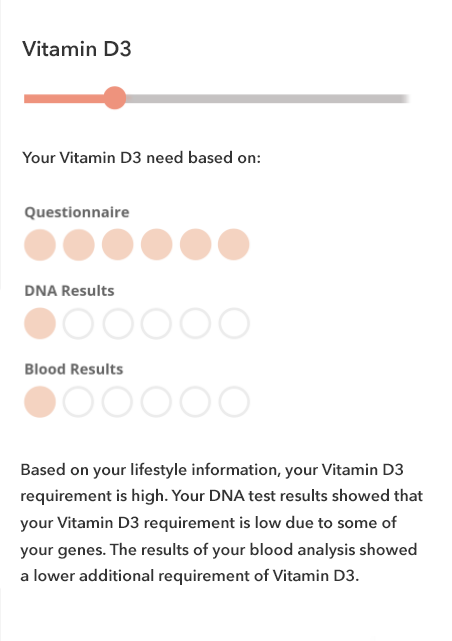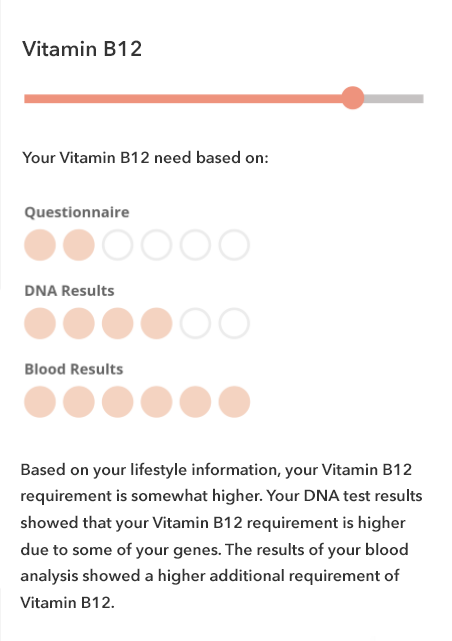 These vitamins have been shown to have significant nutrigenomic interactions in humans. Your dose of each nutrient will be unique to you, based on what we see in your DNA analysis, lifestyle or blood work.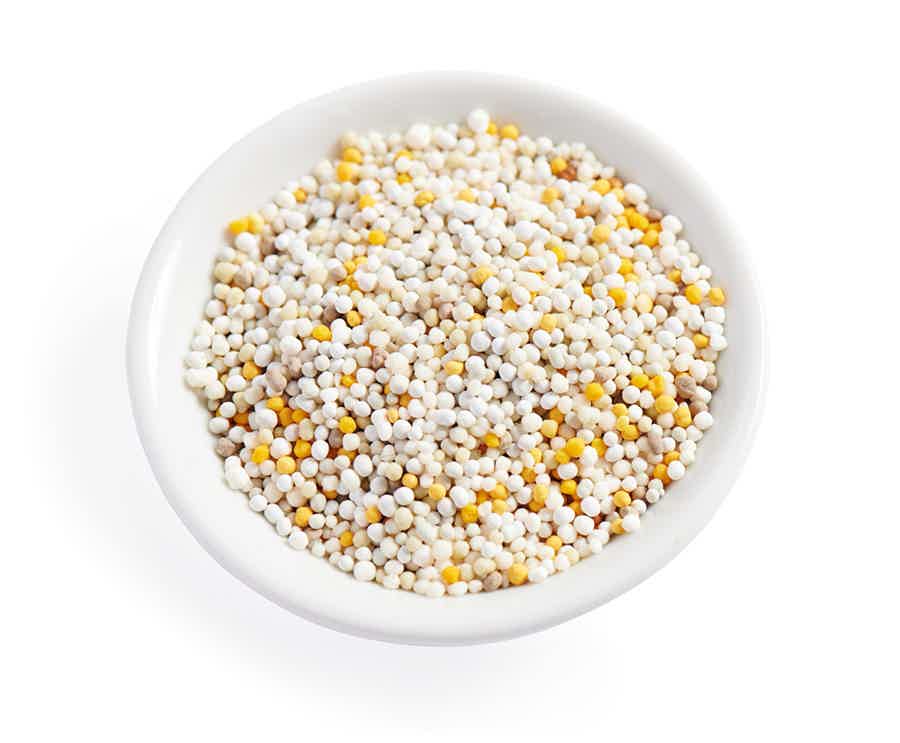 Microbeads solve the problems of pills, powders and liquids.
Microbeads solve the problems of pills, powders and liquids.
Bio-Available and Slow-Release

Easy to Swallow, Mix, or Blend

Gluten and Sugar Free, Vegetarian

No Artificial Colors or Fillers
3rd-Party Tested
What will the DNA test tell me?
The cheek-swab DNA test analyzes 52 gene variants that are scientifically proven to impact nutrient needs. The report will show you which of these genes work well and which don't. You'll learn which nutrients you need more of or less of, and which nutrients will will be helpful vs potentially harmful. Already have Ancestry or 23andMe results? Easily upload that data into your Rootine dashboard and skip the test!
Why is Rootine better than other vitamins?
Rootine is 100% customized using your DNA, (optional) blood levels, and lifestyle data and based on 150+ scientific research reports. Our microbeads are easy to take and contain no fillers (goodbye horse pills), super convenient to travel with or fit into a busy schedule, and best of all - our customers love the way they feel after taking Rootine! PLUS: you'll learn so much about your body from the detailed nutrition reports + detailed genetic analysis in your dashboard.
How does the optional blood level test work? 
Most doctors, clinics and labs can easily order your blood nutirent test. In your dashboard, you'll input the results (we've made it easy) and the formula in your next shipment of Rootine will automaticlly adjust based on your most current nutrient levels. This allows Rootine to adapt over time and change with you as your nutrient needs change.
Similar to other genetic testing providers (Ancestry.com, 23andMe, etc), from the time our Lab receives your sample, the DNA analysis can take anywhere from 3-5 weeks based on the quality of your cheek swab. If you've already taken a test from another provider (contact us for a list of approved partners), you can skip the wait by easily uploading your data in your Rootine dashboard. Once analysis is complete, you can expect your vitamins to ship within 2 weeks.
Is my DNA / quiz /  blood data private?
Your data is 100% private, plain and simple. Rootine is not in the business of selling personal data or using it for any purpose other than making sure your body gets a safe and effective dose of vital nutrients. Our industry leading genetics laboratory in Austria is goverened by some of the strictest data and medical privacy laws in the world.
Meet the minds who are reinventing your daily vitamin rootine.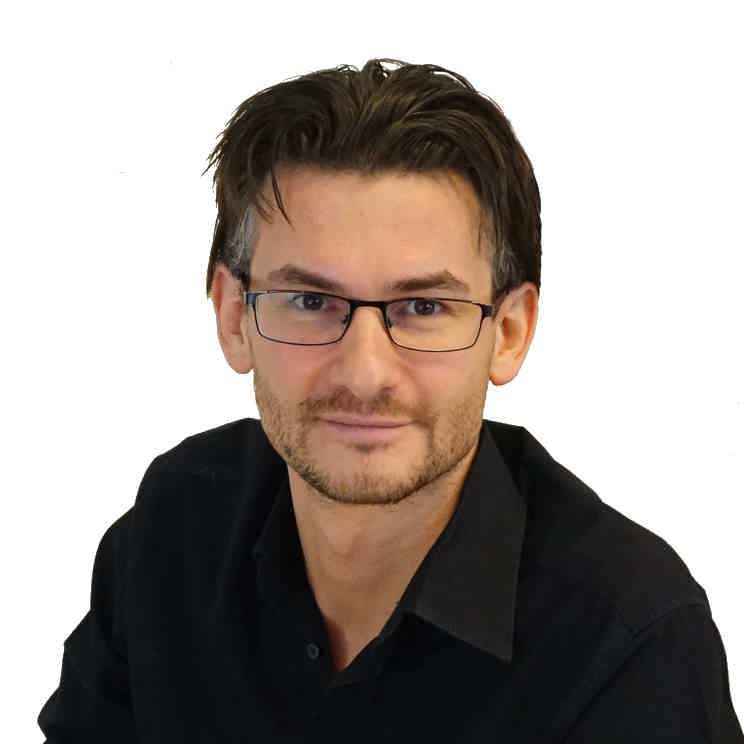 Daniel Wallerstorfer, PhD.
Rootine's Co-Founder, leading expert in genetics and nutrition, with a PhD in biotechnology and over a decade of experience owning and operating Europe's leading genetics lab.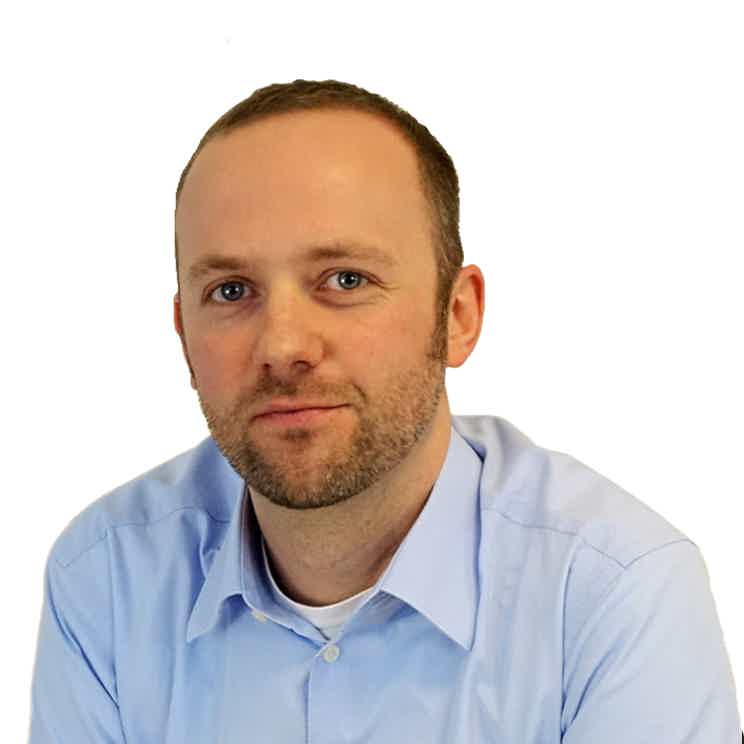 Florian is a geneticist and an expert in genotyping techniques, analysis and technology development related to genetics and nutrition.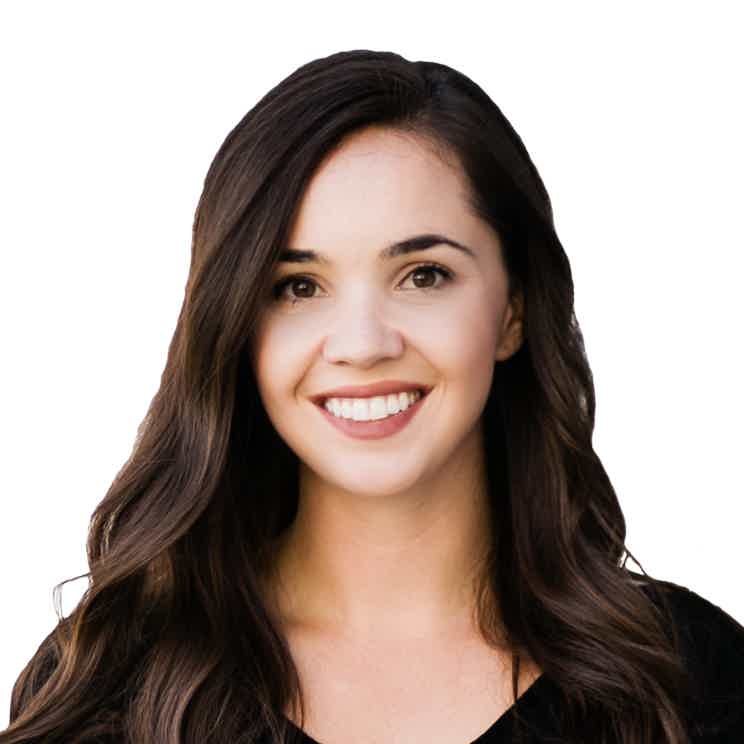 Rootine's Co-Founder, Rachel is a passtionate health and nutrition expert with a degree from Harvard who regularly speaks on panels concerning the future of nutrional standards.
What Our Customers Are Saying
Our reviewers are Rootine customers, verified by Yotpo. We can't change or edit their reviews.